The End of Power. MNaim (2013), p. 240
January 24, 2014
See on Scoop.it – More … or less!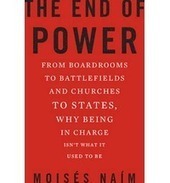 "The end of the Cold War and, more specifically, the collapse of communism as an inspirational idea blurred the ideological lines that gave many parties their unique identity. As electoral platforms became indistinguishable, the personalities of candidates became the main, and often the only, differentiating factor. To win elections, political parties relied less on the popular appeal of their ideals and ideas and more on marketing techniques, the media prowess of candidates, and, of course, the money they could raise. Naturally, the same scandals that tarnish individual politicians also affect the political organizations to which they belong. Again, freer media and more independent parliaments and judiciaries ensured that corrupt practices once carefully hidden or silently tolerated became painfully visible and obviously criminal, thus degrading the "brand" of the political party. The public tarnishing was also fueled by political parties that could no longer distinguish themselves ideologically from their opponents and relied on corruption accusations and scandals to define political rivals in the minds of voters. It is impossible to ascertain whether political corruption actually increased in the past decades, but it certainly has been more publicized than ever."
[op. cit., p. 240]
Manuel J. Matos's insight:
The apparent devolution of power to the people has the consequence that ideas are, in some way, devaluated?
See on www.bookdepository.co.uk