The End of Power. Moises Naim (2013)
January 18, 2014
See on Scoop.it – More … or less!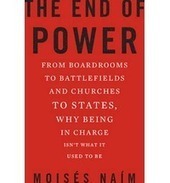 "A profound change in expectations and standards has come about, and not just in liberal societies but even in the most hidebound ones. Most people look at the world, their neighbors, employers, clergy, politicians and governments with different eyes than their parents did. To some degree, that has always been the case. But the effect of the More and Mobility revolutions has been to vastly broaden the cognitive, even emotional impact of more access to resources and the ability to move, learn, connect, and communicate more broadly and inexpensively than ever before. Inevitably, this sharpens the intergenerational gaps in mentality—and in worldview."
[op. cit., p. 65]
Manuel J. Matos's insight:
Can we make sense of the changes of the present times?
See on www.bookdepository.co.uk