What Money Can't Buy: The Moral Limits of Markets. Michael Sandel (2013)
December 21, 2013
See on Scoop.it – More … or less!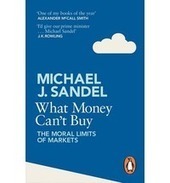 "In its own way, market reasoning also empties public life of moral argument. Part of the appeal of markets is that they don't pass judgment on the preferences they satisfy. They don't ask whether some ways of valuing goods are higher, or worthier, than others. If someone is willing to pay for sex or a kidney, and a consenting adult is willing to sell, the only question the economist asks is, "How much?" Markets don't wag fingers. They don't discriminate between admirable preferences and base ones. Each party to a deal decides for himself or herself what value to place on the things being exchanged. This nonjudgmental stance toward values lies at the heart of market reasoning and explains much of its appeal. But our reluctance to engage in moral and spiritual argument, together with our embrace of markets, has exacted a heavy price: it has drained public discourse of moral and civic energy, and contributed to the technocratic, managerial politics that afflicts many societies today."
[op. cit., p 14]
Manuel J. Matos's insight:
It is a bit redundant to keep talking about what brought us to the current crisis, isn't it? I happen to agree with Sandel, it is never redundant!
See on www.bookdepository.co.uk