Post-democracy. Colin Crouch (2004) (p. 28)
June 7, 2013
See on Scoop.it – More … or less!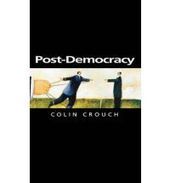 "In addition to being an aspect of the decline from serious discussion, the recourse to show business for ideas of how to attract interest in politics, the growing incapacity of modern citizens to work out what their interests are, and the increasing technical complexity of issues, the personality phenomenon can be explained as a response to some of the problems of post-democracy itself. Although no-one involved in politics has any intention of abandoning the advertising industry model of communication, identification of specific cases of it, in current British jargon stigmatized as 'spin', is tantamount to an accusation of dishonesty. Politicians have thereby acquired a reputation for deep untrustworthiness as a personality characteristic. The increasing exposure of their private lives to media gaze, as blaming, complaining and investigating replace constructive citizenship, has the same consequence. Electoral competition then takes the form of a search for individuals of character and integrity. The search is futile because a mass election does not provide data on which to base such assessments. Instead what occurs is that politicians promote images of their personal wholesomeness and integrity, while their opponents only intensify the search through the records of their private lives to find evidence of the opposite."
[op. cit., p. 28]
Manuel J. Matos's insight:
Not just this, but when someone in politics does not fit the advertising communication model in general use, one risks being accused of not being able to "communicate" with the public. It is something, obvioulsy, also on the other side of the "parabola"!
See on www.bookdepository.co.uk