Wired for Culture: The Natural History of Human Cooperation. Mark Pagel (2013)
April 27, 2013
See on Scoop.it – More … or less!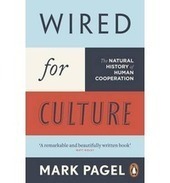 "Before we leave this topic it might be useful to point out that any shortcomings we have at being inventive or innovative are likely to be magnified in our modern world. This is because it is not necessary for the numbers of innovators in society to keep pace with increases in the size of the population—many people can happily get by copying just one good innovator. This effect is enhanced by language and writing, both of which transmit ideas and innovations well beyond those who came up with them. And this raises a serious question about the kind of dispositions and temperaments that our modern world will encourage. As our societies become ever more connected and "globalized" it will become increasingly easy for most of us not to innovate at all—to become intellectually lazy and docile, at least in matters of inventiveness. The irony is that this might be happening at a time when more innovation is needed than ever before just to maintain the levels of prosperity many of us already enjoy, and to raise it for those who have, up to now, been less fortunate."
[op. cit., pp. 243-244]
Manuel J. Matos's insight:
A surprising book, for the unusual way it presents ideas about ourselves and how we evolved, both as individuals and as societies.
See on www.bookdepository.co.uk