Postwar: A History of Europe Since 1945. Tony Judt (2006)
April 13, 2013
See on Scoop.it – More … or less!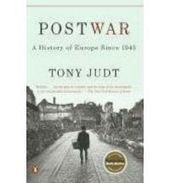 "Legitimacy is also a function of territory. The European Union, as many observers have noted, is an utterly original animal: it is territorially defined without being a consistent territorial entity. Its laws and its regulations are territory-wide, but its citizens cannot vote in each other's national elections (while being free to cast their vote in local and European ballots). The geographical reach of the Union is quite belied by its relative unimportance in Europeans' daily affairs when compared to the country of their birth or residence. To be sure, the Union is a major provider of economic and other services. But this defines its citizens as consumers rather than participants—'a community of passive citizens . . . governed by strangers'—and thus risks provoking unflattering comparisons with pre-democratic Spain or Poland, or the quiescent political culture of Adenauer's West Germany: unpromising precedents for such an ambitious undertaking."
[op. cit., p. 798]
Manuel J. Matos's insight:
A very important books to understand today's Europe. It shows a vision of how we got here, and makes us think about what we want as a future. The main question remains: what does it mean to be "European"? To many of us, it does not seem to matter, especially in times such as the present one, with an economic crisis that does not seem to go away. Tony Judt forces us to put things in perspective.
The book is not so much an History book, but a permanent interrogation about past present and future. Do we do that, or just pass by life as ghosts, not caring about where we came from and the open paths ahead of us?
See on www.bookdepository.co.uk