Postwar: A History of Europe Since 1945. Tony Judt (2006)
April 2, 2013
See on Scoop.it – More … or less!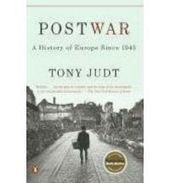 "It was one of the self-delusions of the age that the Sixties were an era of heightened political consciousness. 'Everyone' (or at least everyone under twenty-five attending an educational establishment and drawn to radical ideas) was in the streets and mobilized for a cause. The deflation of the causes—and the demobilization of the coming decades—thus confers in retrospect an air of failure upon a decade of frenetic political activity. But in certain important respects the Sixties were actually a vital decade for the opposite reason: they were the moment when Europeans in both halves of the continent began their definitive turn away from ideological politics."
[op. cit., p. 448]
"Mediocre times, wrote Albert Camus in The Fall, beget empty prophets. The 1970s offered a rich harvest of them. It was an age depressingly aware of having come after the big hopes and ambitious ideas of the recent past, and having nothing to offer but breathless and implausible re-runs and extensions of old thoughts. It was, quite self-consciously, a 'post-everything' era, whose future prospects appeared cloudy. As the American sociologist Daniel Bell observed at the time, 'The use of the hyphenated prefix post- indicates [a] sense of living in interstitial time.' As a description of the real world—'post-war', 'post-imperial', and most recently 'post-industrial'—the term had its uses, even if it left uncertain what might follow. But when applied to categories of thought—as in 'post-Marxist', 'post-structuralist' and, most elusively of all, 'post-modern'—it merely added to the obscurities of an already confused time."
[op. cit., p. 478]
Manuel J. Matos's insight:
A very important book to help us (europeans) understand how our recent history shaped our own lives.
See on www.bookdepository.co.uk
(versão portuguesa: http://www.wook.pt/ficha/pos-guerra/a/id/188336)