Antifragile: How to Live in a World We Don't Understand, NNTaleb (2012)
January 23, 2013
See on Scoop.it – More … or less!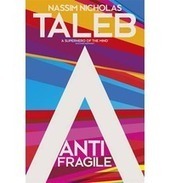 "I am even more distraught for the future of the human race when I see a nerd behind a computer in a D.C. suburb, walking distance from a Starbucks coffeehouse, or a shopping mall, capable of blowing up an entire battalion in a remote place, say Pakistan, and afterward going to the gym for a "workout" (compare his culture to that of knights or samurai). Cowardice enhanced by technology is all connected: society is fragilized by spineless politicians, draft dodgers afraid of polls, and journalists building narratives, who create explosive deficits and compound agency problems because they want to look good in the short term."
[op. cit., p. 379]
Manuel J. Matos's insight:
No need for any comments, don't you think?
See on www.bookdepository.co.uk